When you review your hotel's mid-year numbers, what do you see? Are your occupancy rates up? Is revenue up? Is your hotel enjoying a revenue boost from 2019? A sample of over 400 revenue-managed hotels found they're on track to close 2022 with a 15%-40% revenue boost from 2019.
A Decrease in RevPar for European Hotels
A review of May STR reports found hotels in many European capitals reported an occupancy rate between 85 and 95% of what it was in 2019. ADR (average daily rate) was higher than in 2019, yet Revpar (Revenue per available room) was below. Revpar, of course, is one of the prime economic indicators.
Now, the pandemic is still affecting travel. So are the war, the inflation, the chaos in airports, and other crises. Hoteliers can blame these external factors for the lower numbers. However, research on revenue-managed hotels shows a different scenario than what you might expect.
These 400 revenue-managed hotels are on track to exceed their 2019 numbers by 15%-40% at mid-year (H1.)
Revenue Management Methodology Includes Brand Reputation
The STR reports include many types of properties. Some hotels don't have revenue management in their overall strategy, which could affect the lowered STR numbers. Such hotels are underperformers when it comes to overall revenue.
For example, some underperforming hotels included in the STR report have a low brand reputation. On Booking.com, they're below an 8, and on Tripadvisor, they are below a 4. Some of these hotels closed due to the pandemic and only recently reopened. Since the algorithms rely on recent reviews to boost visibility and ranking, a prolonged closure period means few (if any) recent reviews. A lack of recent reviews contributes to lost online visibility for such hotels.
That's an entirely different scenario than hotels that may have briefly closed at the beginning of the pandemic. Hotels that remained open and relied on revenue management to maintain cash flow are now in a strong position.
This article outlines the mid-year achievements of a group of European and South American hotels. These "overperformers" use revenue management to adjust their ongoing pricing strategies and enhance cash flow. The graphics show their recent results for the same period in 2019. While some of these examples are in specific Italian and Argentinian cities, these trends reflect other countries.
These 400 properties, using Franco Grasso Revenue Team consulting services and revenue management system, have some common threads. Additionally, they:
Never closed during the pandemic
Rely on revenue management as a profitability strategy (even in times of crisis)
Maintain a high reputation score which is an 8 or higher on Booking.com and 4 or more on Tripadvisor/Google
3-star category ranging in size from 20 to 200 rooms
Hotel Performance 2019 vs 2022 – European Cities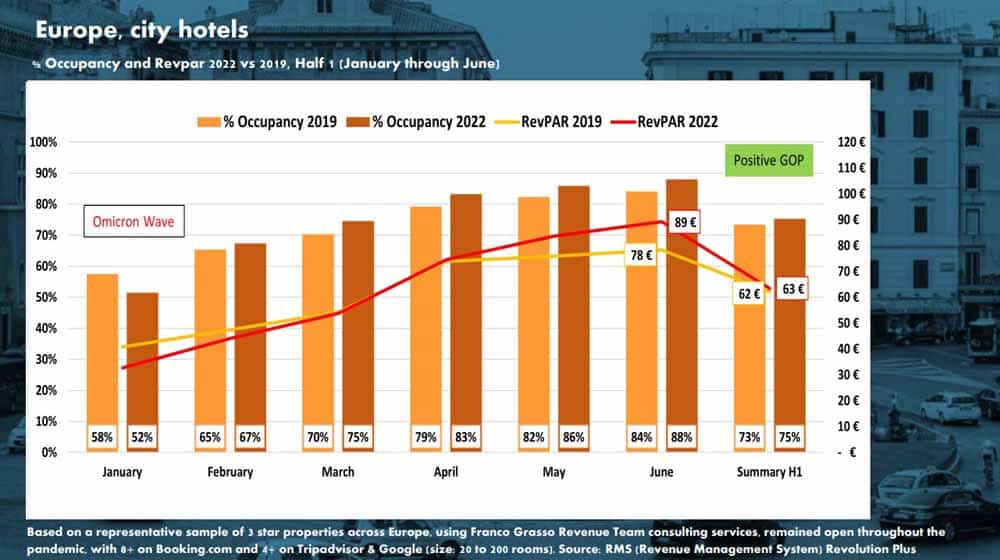 This graph compares European city hotels from January to June 2022 with the same timeframe in 2019. You can see the impact of Omicron at the beginning of the year. Of course, it was no longer travel restrictions keeping people home, but due to so many would-be travelers getting sick and having to cancel or reschedule their reservation at the last minute.
Revenue management helped these properties close the mid-year with higher turnover than in 2019 (+2%.) yet, by March, the occupancy rates make a noticeable increase, and by April and May, they're going strong. They have made up for the first three months of the year these past three months because they could maximize revenue.
Rome
Whether or not all roads lead to Rome, the capital attracts millions of visitors a year. In 2019, 10.32 million tourists visited the storied city and spent at least one night.
When travel restrictions eased, tourists returned to The Eternal City, and the hotels that'd remained open benefited. The president of the local hoteliers' association reported many hotels closed at the beginning of the pandemic. Specifically, at least 350 hotels out of more than 1200 closed for nearly two years, and around 200 are still closed or will never reopen. You can search Rome hotels on Booking.com and compare the number of properties available now vs. 2019.
As the open hotels welcomed returning visitors, they enjoyed excellent revenue increases. This way, these hotels closed with revenues of +15% in the first half of the year (H1) compared to 2019. You'll see below these revenue boosts minimized the first-quarter losses.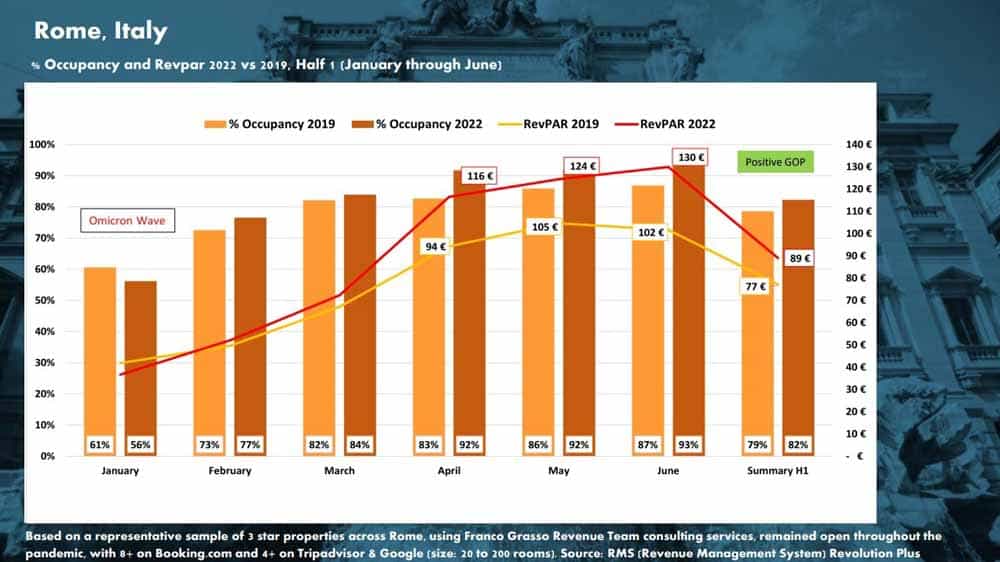 If you consider the alternative lodgings as B&Bs and guesthouses closed, there are even fewer options for visitors looking for a comfortable place to stay.
As the market responds to robust demand, the open hotels are thriving. Such hotels incorporated revenue management methodology throughout the past two years. Revenue management helped them maintain their cash flow during the down times, and now they can use the same methods to maximize their revenue during high demand.
11 Ways Revenue Management Enabled Properties in 2020 and 2021
Provide accommodation for essential or transient business travelers during periods of restricted leisure travel
Maintain an operational break-even
Maximize revenues during periods of relaxed restrictions to recoup previous losses
Obtain positive reviews for OTAs
Keep the ranking and online visibility consistently high
Retain staff
Acquire new clients from other hotels closures and retain them
Achieve a positive GOP (Gross Operating Profit) at the end of the year
Analyze the market to predict demand in the short, medium, and long term
Invest in service improvements
Surpass competitors
Plus, since these hotels remained open (and retained staff), they're not facing the staff shortages newly reopened hotels face. Those hotels that closed and are reopened face a lack of visibility online and can't operate at full capacity due to a lack of staff.
The May reports show a popular trend in European cities. Both before Covid and now, Saturdays tend to be popular. It's the most requested day of the week, and the graph shows peak occupancy and ADR. The chart shows how rates have kept increasing over the past three months as travel restrictions ease.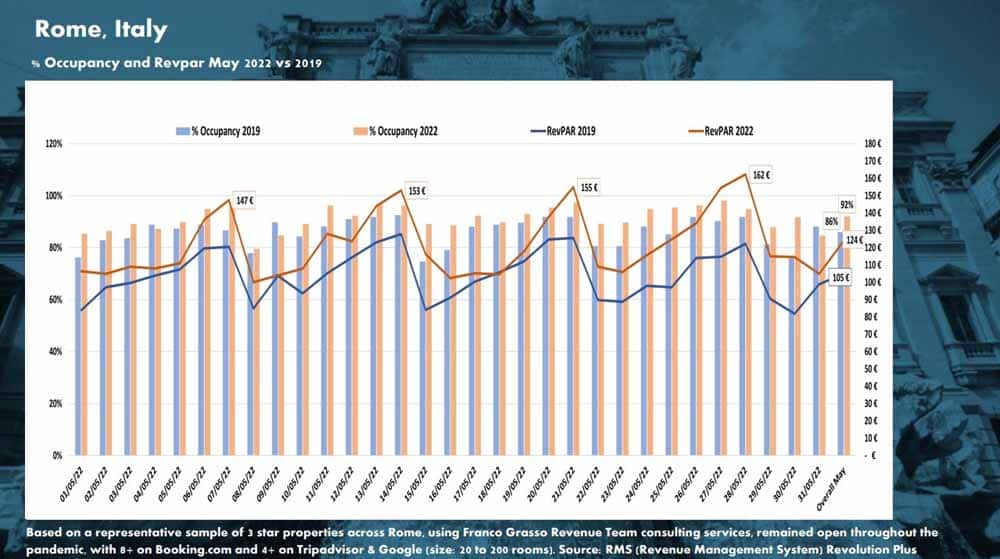 Turin and Milan
Of course, travelers are visiting other cities too. In Italy, the data from Turin and Milan hotels show the effect of significant events on hotel revenue. Hotels that incorporate revenue management can maximize rates in ways they may not have thought possible.
In Turin, two specific events created a significant demand. They were both on Saturdays, May 14 and May 21, 2022. On May 14, Turin hosted the Eurovision Song Contest. Fans know this is one of the most-watched international music events worldwide. On May 21, the demand came from a sporting event. Turin hosted the Women's Champions League playoff final featuring Barcelona and Lyon. Both the stadium and the hotels were full.
Yes, there were other area events, but it's interesting to see how women's football is gaining a large following similar to men's sports.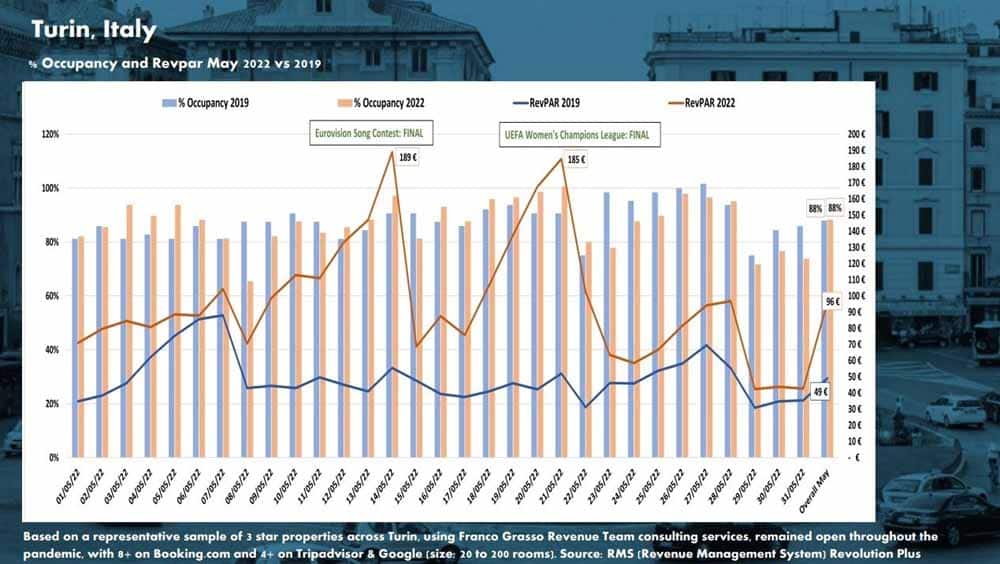 In Milan, the Salone del Mobile fueled tourism. With over 370,000 attendees, The Salone del Mobile is the world's largest furniture and design trade show, attracting thousands of interior designers, furniture makers, and other industry professionals.
With such a high demand for accommodations, even 3-star hotels can fetch rates usually only seen with 5-star hotels.
Covid canceled The Salone del Mobile in 2020 and was scaled way back in 2021. This was the first year it returned to its original size and format though it was pushed by two months into June rather than the traditional April.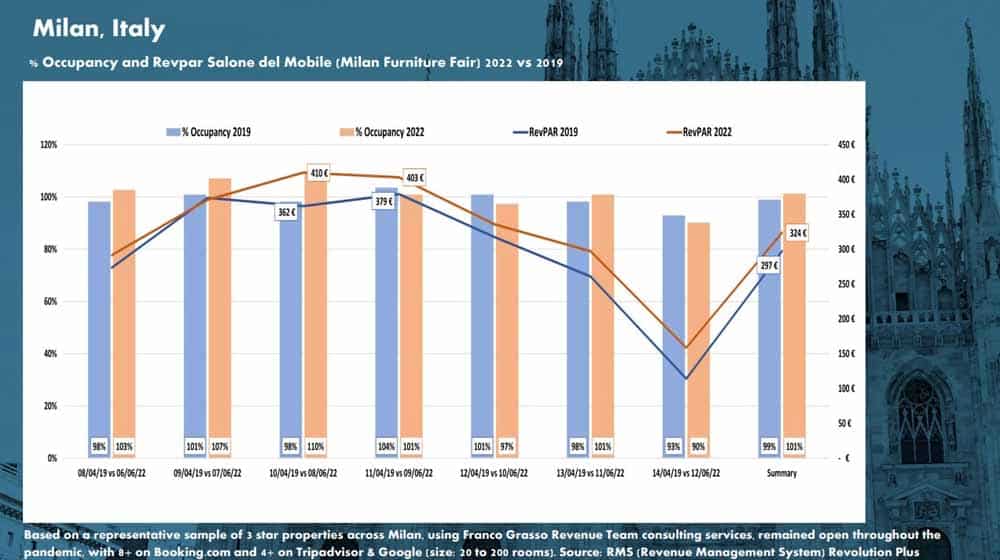 Some days, hotels saw occupancy beyond 100% (with a peak of 110%). Of course, this isn't organic for every hotel. Overperforming hotels using revenue management can strategically overbook themselves, knowing which other hotels have availability. By overbooking and redirecting some guests to the additional hotels, they boost these hotels' performance and earn extra revenue by leveraging the price difference between them and underperforming hotels.
Playing this overbooking game requires a strong strategy and awareness to avoid unhappy guests, bad reviews and operational stress for the staff. But it can strongly pay off in extra revenue.
Seasonal Hotels Such as Mountain, Beach, and Lake Destinations Performed Well Too
Some hoteliers may wonder if seasonal hotels fare well with these mid-year revenue numbers. The short answer is "yes."
As you can see in the graph, Omicron negatively impacted mountain-based hotels in Europe at the beginning of the year. It was winter, and the Omicron variant cancelled many travel plans. As the seasons changed, fewer guests traveled to mountain resorts, yet these mountain hotels ended the first half of the year with better results than in 2019. Yet, despite the lower occupancy rate than in 2019, mountain hotels still surpassed 2019 Revpar due to a higher ADR. They were up +5%.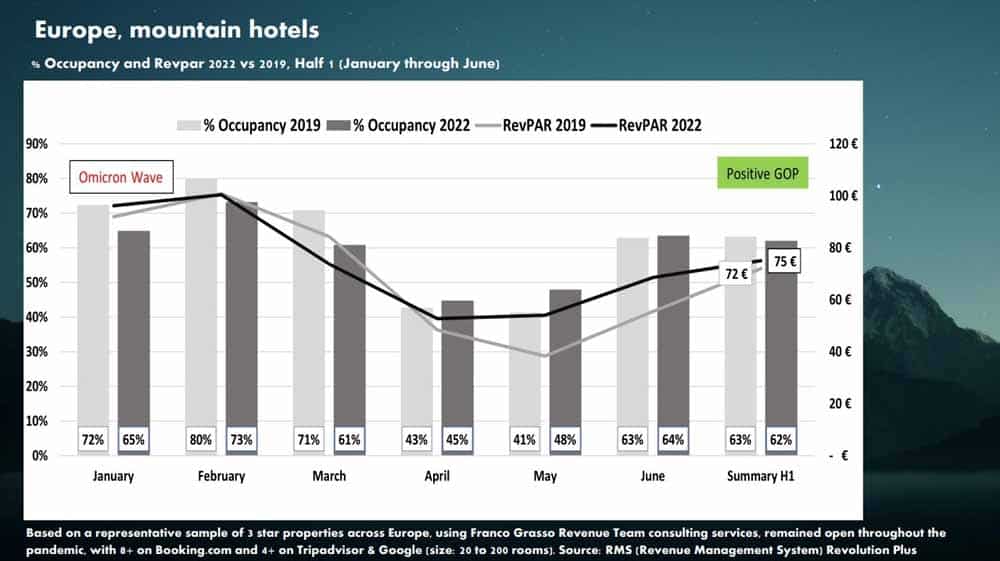 The below graph shows mainly summer properties. Many of these hotels in Europe opened for the season in April 2022 and, in their first quarter, saw a 10-45% boost from 2019 numbers.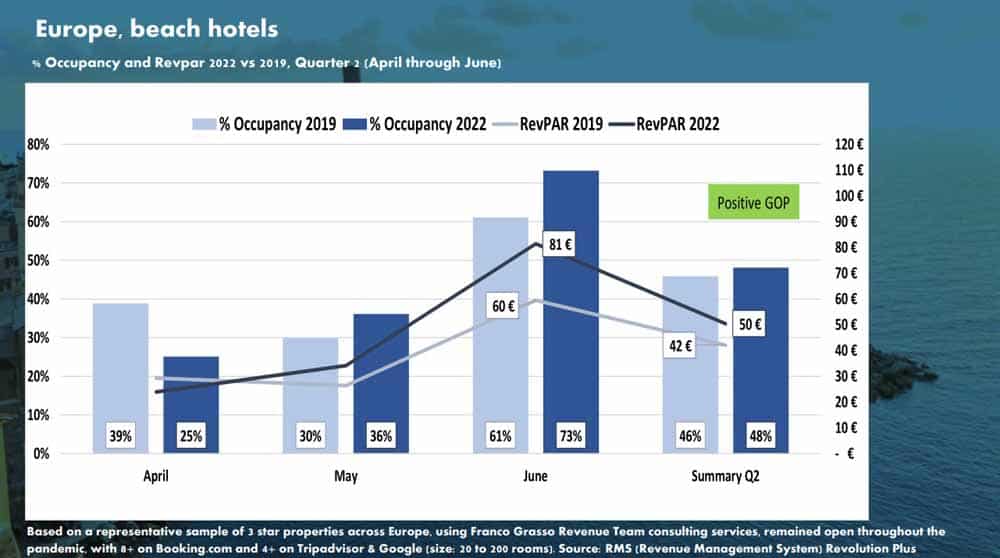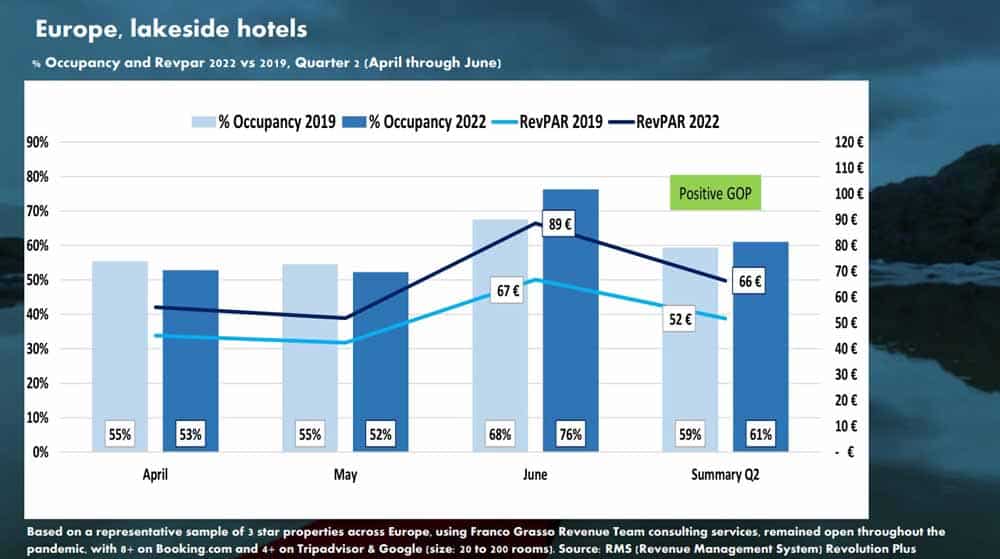 Hoteliers see similar results outside of Europe. For example, Argentina.
Despite the Devalued Argentinian Peso
The first months of the year are winter in Europe and summer in the southern hemisphere. Despite Omicron, hotel occupancy remained strong in capitals like Buenos Aires. In the second quarter, travel restrictions eased, and foreign travelers returned. This combination helped area hotels eclipse 2019 revenue numbers.
It's worth noting that currency impacts these overall numbers. In the first part of the year, most of the guests were domestic visitors paying in the Argentinian Peso, and this currency was heavily devalued from the US dollar compared to 2019. Revpar and revenue were higher in pesos (more than double vs 2019) but not US dollars. However, in April, the visitors shifted to those paying in US dollars. As suggested by the graph ADR, RevPAR, and profits surpassed 2019 again in the second quarter. And the positive trend in H2 suggests the entire year's results will outperform 2019 too.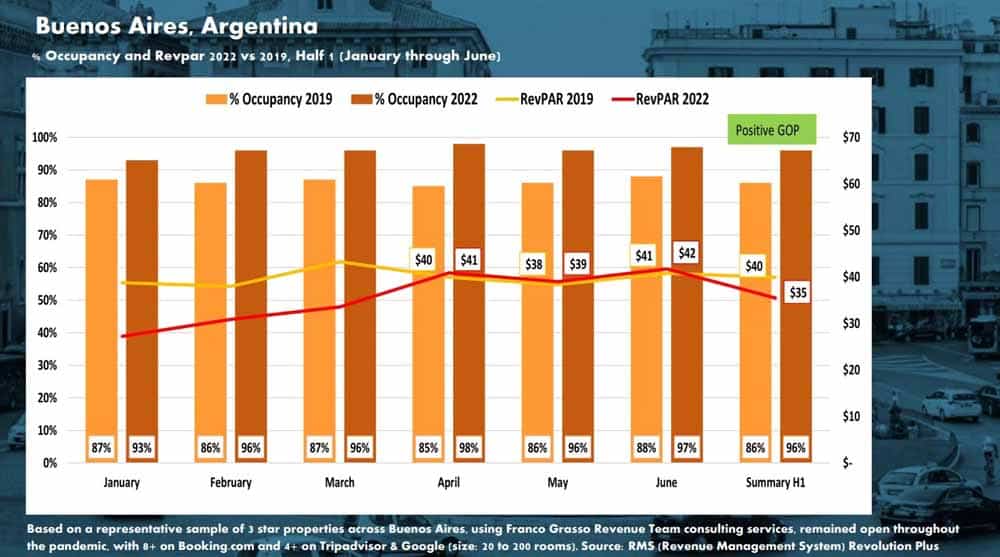 Turning to more bucolic settings, the Villa General Belgrano is one of Argentina's most popular leisure destinations. This small mountain village is always popular with travelers looking for fresh air and outdoor activities. It, too, enjoyed higher numbers than in 2019, both in Q1 (summer/high season) and Q2.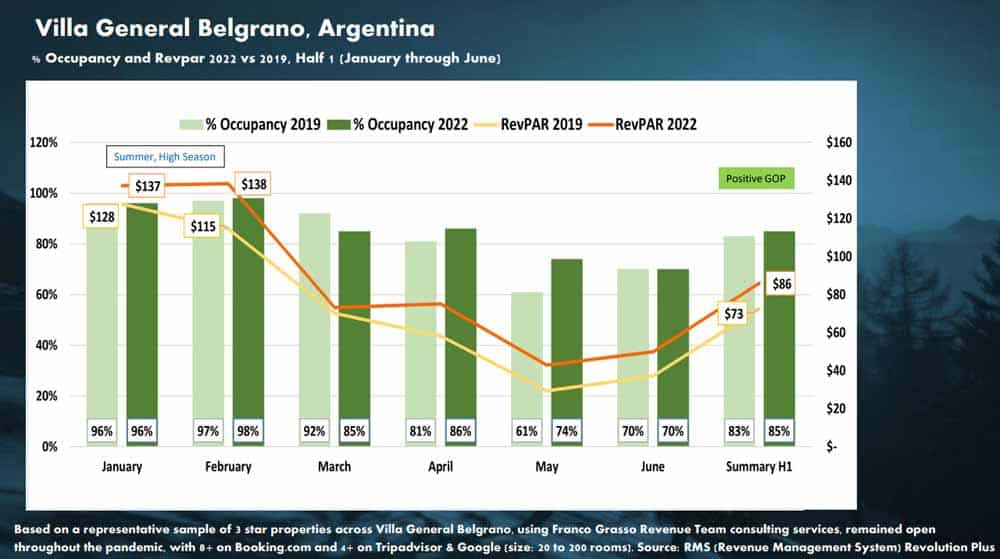 Previous research demonstrates that revenue management has everything to do with managing overall cash flow and brand reputation regardless of external factors. Those hotels that remained open throughout the pandemic and continued to practice revenue management are well-positioned to reap the rewards. Each of these hotels closed out the mid-year review in a stronger position than in 2019, which looks promising for the year's second half.
Free Ebook

: 5 Revenue Management Tips for City, Beach, Mountain & Countryside Hotels

In the ebook

"5 Revenue Management Tips for City, Beach, Mountain & Countryside Hotels"

, hoteliers find in total 20 practical tips for city, beach, mountain, and countryside hotels to increase their revenue.

Click here to download

this free ebook.

As hoteliers review mid-year (H1) numbers and forecast the remainder of the year, you might wonder how revenue management can help you. In these graphs, you've seen revenue-managed hotels show a boost in revenue between 15% and 40% higher than in 2019.
Revfine.com
2022-07-18T10:37:02+02:00