OTAs show "breakfast included" as a primary search filter for hotel guests. It's not surprising that guests want to maximize their time and energy by enjoying breakfast within the hotel. It's one less decision they need to make.
In this article, you'll see how thinking of breakfast as a profit center – setting, food, service, environment – impacts your hotel's brand reputation and revenue management methodology.
The Most Important Guest Habit is Breakfast
TripAdvisor's TripIndex Breakfast shared statistics indicating guest habits. One of these is their breakfast preferences. 65% of the customers interviewed admitted they chose the hotel based on breakfast service. 91% said they prefer an in-hotel breakfast, and for 83%, breakfast service is essential for a positive hotel experience.
The image below shows "breakfast included" as a primary search filter on OTAs.

As guests search for hotel accommodations at OTAs, they look for budget, reputation score, location, and breakfast. If your hotel offers a breakfast service and it's present on the OTA filter, that aids your hotel's visibility on the OTAs.
In addition, Google and Booking.com pay great attention to breakfast as a keyword and its reviews. This means hotels with positive breakfast reviews can see a bump in their online visibility and sway potential guests to book with them.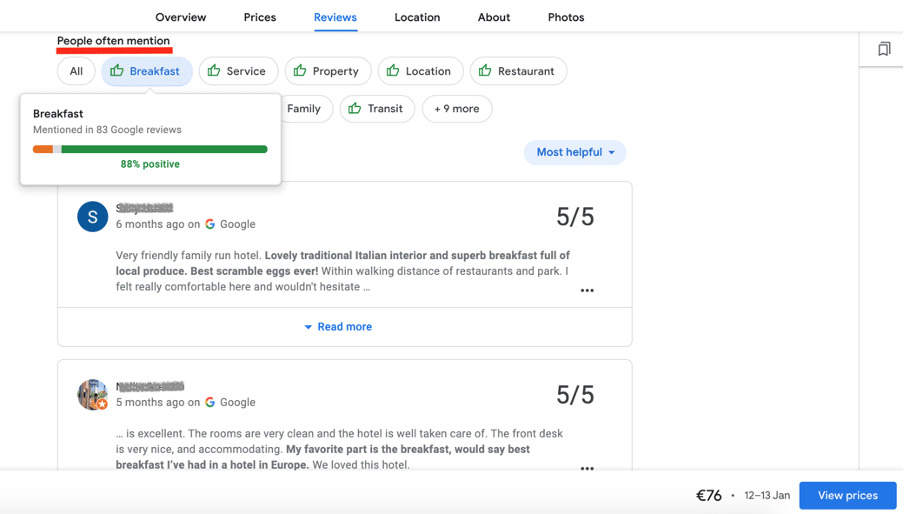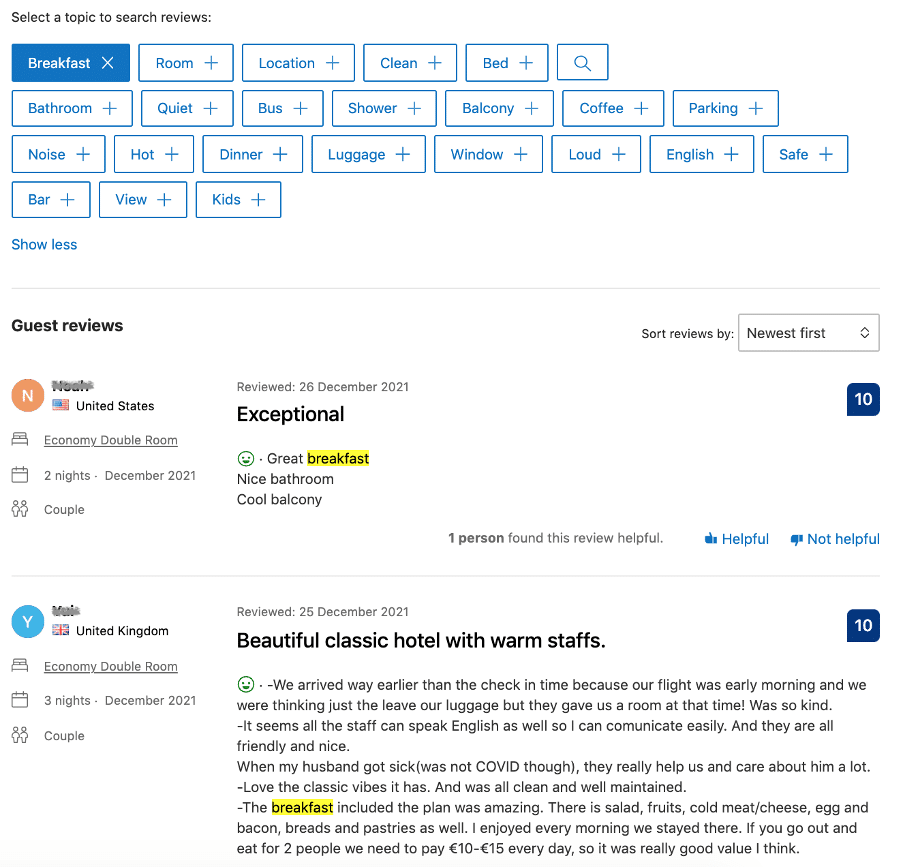 It is no coincidence that Booking.com even places the information on the score and quality of breakfast in close contact with the button "I'll reserve." This further demonstrates how breakfast is an important psychological trigger to convince the user to finalize the reservation.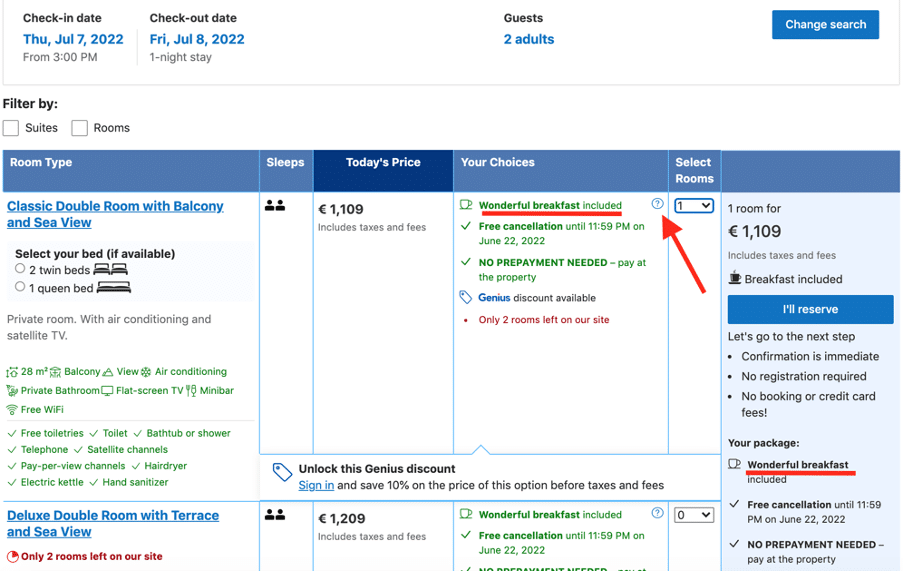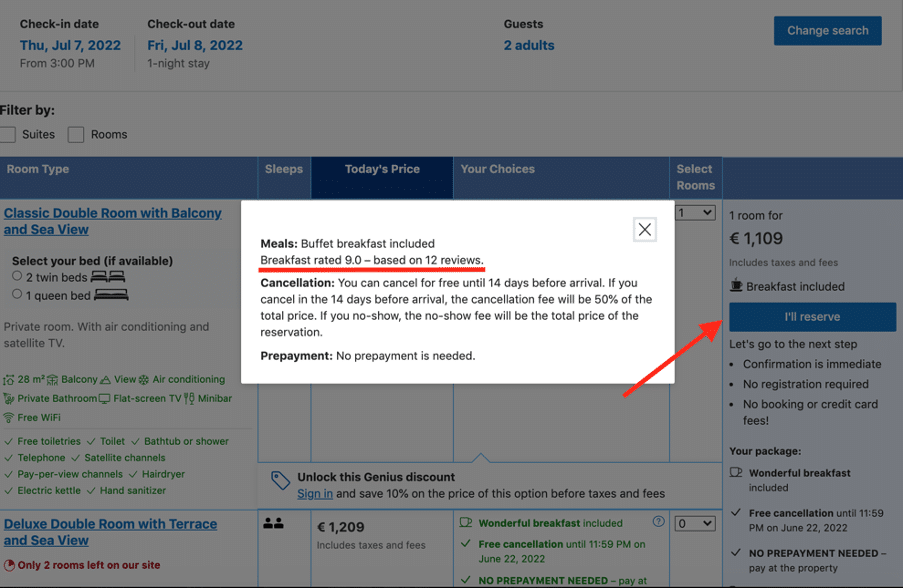 Breakfast is The Last Impression the Guest has Before Check-out
In the hotel sector, breakfast is as important as the night's stay and the comfort of the room; it is even more so in some cases. It's the last impression the guest has before check-out.
Many hoteliers have recognized the importance of the breakfast service to the guest experience either on their own or through online ratings. Hotels offering a quality breakfast can increase guest satisfaction, leading to more positive reviews and higher search rankings (greater visibility.)
In this light, breakfast is an investment, and it benefits the reputation and visibility of the property, leading to increased turnover and profits. By now, you understand the paradigm shift of "Cost ➝ Investment ➝ Profit" is the key to understanding how breakfast can be a deciding factor for your development strategies.
If you read hotel reviews, you'll see more than half refer to breakfast and/or to the hotel restaurant. The breakfast experience for guests indirectly impacts the overall score due to the algorithm ratings.
Hotel Breakfast and the Relationship with Brand Reputation and Revenue Management
While a hotel's brand reputation is a tremendous topic, it's impossible to consider it without the evolution of the internet.
Today's modern travelers rely on online channels to make their travel choices, including online reviews to guide their decisions.
Imagine two similar hotels. Both are similar, yet one has more positive reviews and a higher score. Travelers book at the property with a higher score, even spending a few euros more.
This happens for different classes of hotels too. For example, the difference between three and four-star hotels is less relevant, and travelers know this. Even five-star hotels can lose ground against hotels of a lower category if their score is lower than those of three and four-star hotels.
Statistics show that 95% of people read online reviews, and many rely on them for their decision-making. You've probably used reviews to choose a service or even buy a car or house in your behaviour.
Of course, as hoteliers, you know not all reviews are reliable. Yet, guests do rely on them. Take Booking.com's scoring. The OTA uses the breakfast service as one of its most important parameters.
This meal is one of the guest's last impressions of your hotel. As in the first impression, this experience must be positive. That way, the guest feels positive about their experience at your hotel even if they'd experienced something unpleasant earlier in their stay.
As you read and track your hotel's reviews, you can see what guests say about the breakfast service. Booking.com statistics offer key insights to see what improvements you need to make or how the ones you've made are working out.
As it turns out, the breakfast service is vital to your overall revenue management plan
The below graphs show "your progress," where you can track your improvements.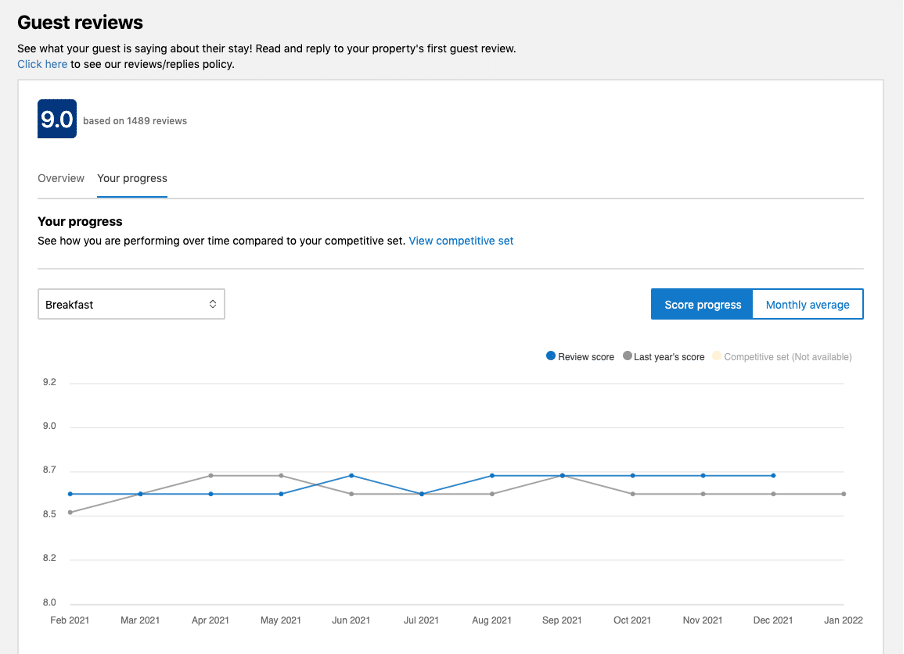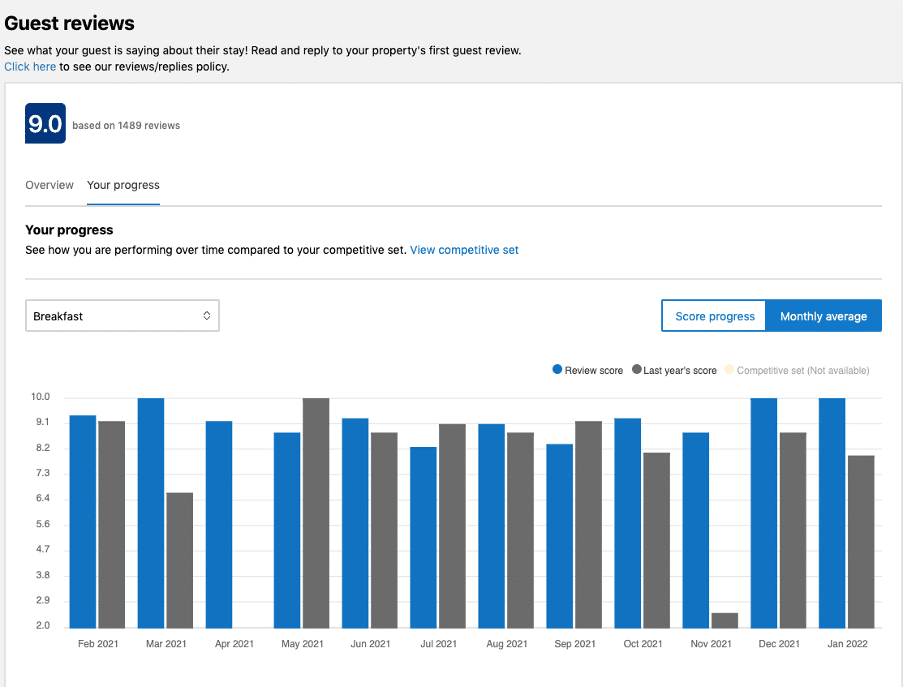 The Impact of the Breakfast Experience on Guest Satisfaction is not to be Ignored
As the most important meal of the day, breakfast can be a decisive category, and its impact on guest satisfaction is not to be ignored. By improving your guest's breakfast experience, your hotel may see your scores increase.
Over the past 15 years, Franco Grasso Revenue Team has studied around 2000 hotels and their brand reputation. The research shows hotels that improve their breakfast service and combine good revenue management, and dynamic pricing techniques, strengthen their brand reputation.
The boost in brand reputation leads to a substantial increase in turnover and profits
In addition, experience and statistics show that customers who eat breakfast are mostly leisure (or bleisure) customers with at least two nights. They're more likely to leave reviews than customers who stay one night and do not use the breakfast service, and they are even more likely to leave positive reviews if the breakfast meets their expectations and tastes. Therefore, too many "room only" guests could cannibalize the "breakfast included" guests, in terms of both revenues and reviews opportunities.
As you've seen, strong reviews are critical to your hotel's online visibility. Yet, you need both quality, quantity, and recency to gain the highest online rankings. Therefore, your revenue management strategy is nearly always preferable to promote the room sale with breakfast included to (b)leisure travelers. They're most likely to appreciate it and leave a positive review, which boosts online visibility and, therefore, new bookings.
Even smaller properties that don't have proper spaces to serve breakfast could alternatively consider collaborating with nearby operators (as long as they are reputable and in close proximity) and take advantage of this enhanced visibility provided by OTAs filters.
Free Ebook

: How Breakfast Service Can Be a Profit Center for Your Hotel

Taking care of breakfast in various aspects means laying the foundations for significant increases in turnover and profits. In this ebook, you'll see how thinking of breakfast as a profit center – setting, food, service, environment – impacts your hotel's brand reputation and revenue management methodology. Click here to download the ebook "How Breakfast Service Can Be a Profit Center for Your Hotel".
Free Ebook

: 10 Things To Know About Revenue Management

Hotel Revenue Management is an innovative economic discipline that involves the harmonious and integrated use of sales channels, distribution strategies and market-oriented dynamic pricing to obtain the highest profits possible from each hotel.

This ebook is an introduction to revenue management for executives, general managers and hotel owners. Within the ebook "10 Things To Know About Revenue Management", you'll learn the principals of revenue management.

Click here to download

the Guide

"10 Things To Know About Revenue Management"

.
Hoteliers who pay attention to the breakfast service will see a correlation in positive reviews, boosting the properties' visibility and attracting more guests. In revenue management terms, a quality breakfast experience can increase occupancy in the low season and ADR (average daily rate) in the high season, outperforming competitors.